CMA. G.C.RAO is fellow member of the Institute of Cost Accountants of India . A merit rank holder  throughout his career, he stood All india 12th Rank Holder in CMA Intermediate and All india 16th Rank Holder in CMA Final.
After professional education, He worked in "Airtel", "GENPACT", "ORACLE" and also "3M INDIA" in managerial capacity.
He has been faculty for various subjects like Financial Accounting, Cost Accounting, Income Tax, Financial Management, Cost and Management Accounting, Indirect Taxes, Company Accounts, and Auditing for CMA Inter /and Financial Reporting, Strategic Cost Management, Financial Analysis and Valuation Management, Strategic Performance Management and Advanced Financial Management and Direct Taxes for CMA Final students.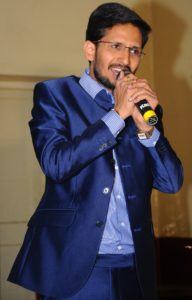 Teaching Experience for 15 years and trained more than 21,000 young brains for the finance professional courses. Multi Qualified, Multi-Talented and highly Dedicated Faculty Member to GCRAO ACADEMY students.
He Promoted GCRAO ACADEMY for CMA training in Jan 2012.
By handling the classes from 7.30 am to 9.30 pm all the seven days in a week for all levels of CMA he stands as an example for commitment and passion towards the work.
He firmly believes that " No shortcut for success, except Hard work "